Kali ma Decsent
2021, 3d Animation, Blender
The animation I submitted in collab with gorgeous @tranlkelly, alongside the jewellery was an interpretation of that history where I imagined her power as not only a goddess but a รꌦ๓๒๏l, to illuminate the illusion of colonialism as she descends from a red and blood filled sky to shine light on the land.
One key point of research for the Kali ring was the reinvention of her tongue which once was symbolic to one side of her once controversial duality.
During the growing dominance of the British in Bengal in the 1800s, due to the East India Company - which had become a military force there - Goddess worship (specially Tantra) informed British missionaries where they sensationalised India of being corrupted by black magic and sexual depravity. They said that "they worship the bloodthirsty Kali whom they seek to perpetuate by sacrificing in cold blood as many as they can"; which justified imposing stricter controls over the local communities.
The Great Rebellion of 1857 which started out as a military mutiny against the EIC, escalated and the Bengali revolutionaries harnessed Kali Ma's radical potential to play on British paranoia. Prints and paintings were sold to locals promoting Bengali revolutionary politics and anti-imperialism and she was reimagined specifically as figure of resistance and symbol of an independent India without the British.


Cooking Gold

Jewellery is widely symbolic in India with a lot of jewellery pieces and materials having symbolic spiritual and religious connotations. However these pre existing ideals surrounding jewellery don't resonate with me as strongly as my own objects and the memories and sentiment in them. As the kitchen a place in an Indian household which is often the heart of the home, where food is made in an aim of bring families together, a lot of memories I hold reside in the tools used here which presents then with new identities and sentiment, regardless of their material value. Wooden spoons are materially worthless however and I have a number in my home which I often find worn and stained through generations of Indian cooking and spices. Turmeric was the main ingredient in my Graduate collection as well as my current explorations that I feel fuse the gap between Indian and jewellery, with its ability to vividly stain wood a rich, golden yellow responding to the opulence in both Indian gold and Indian food.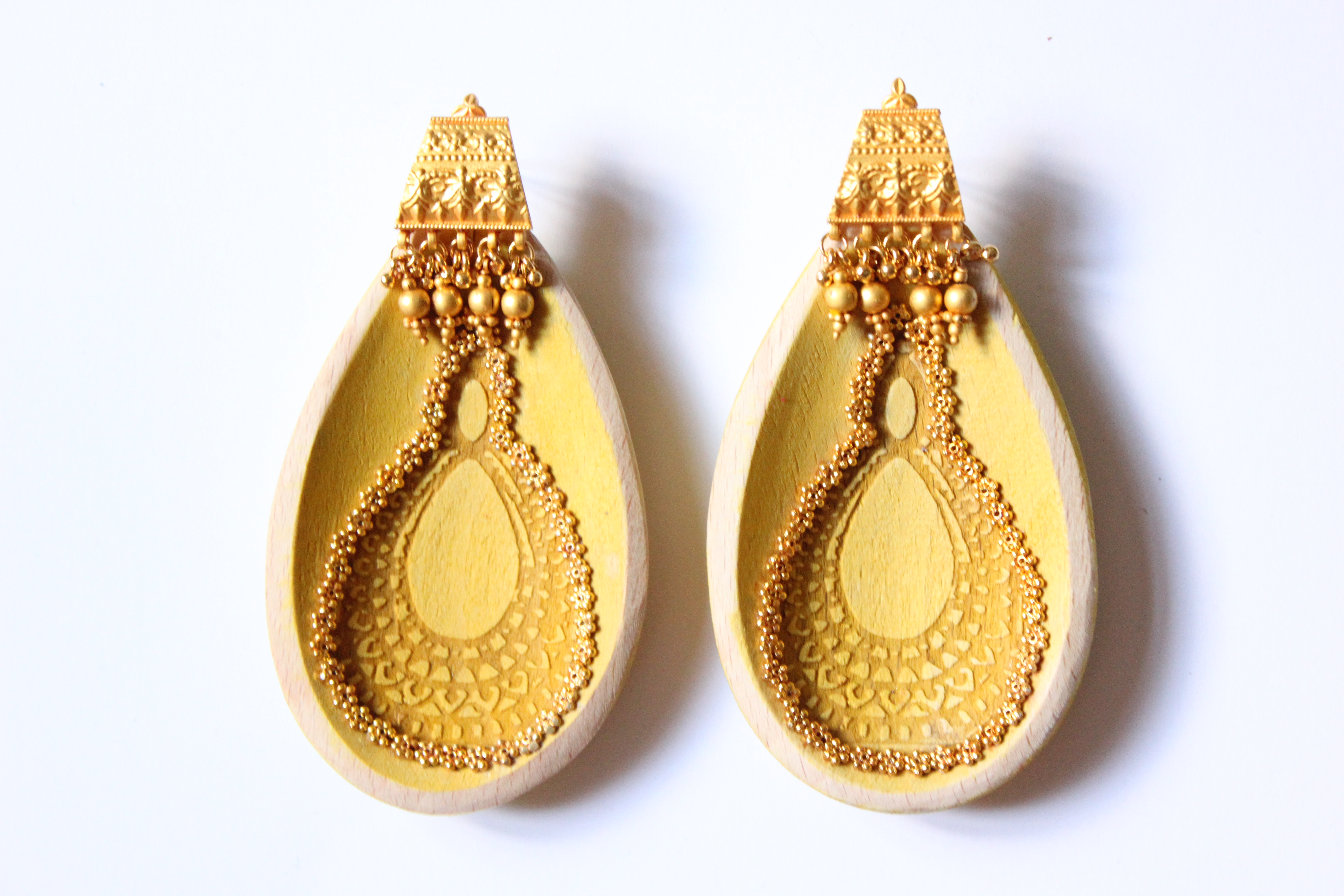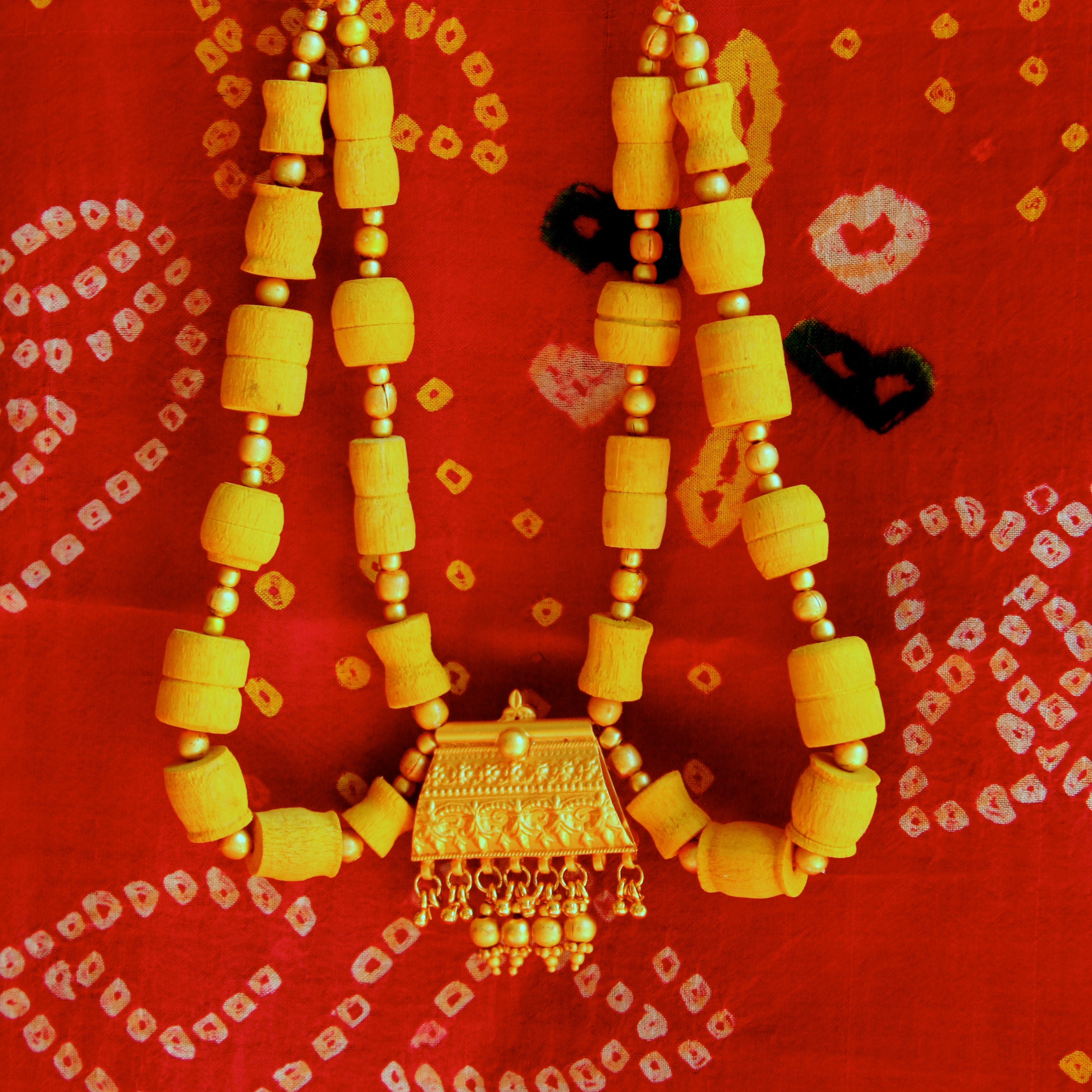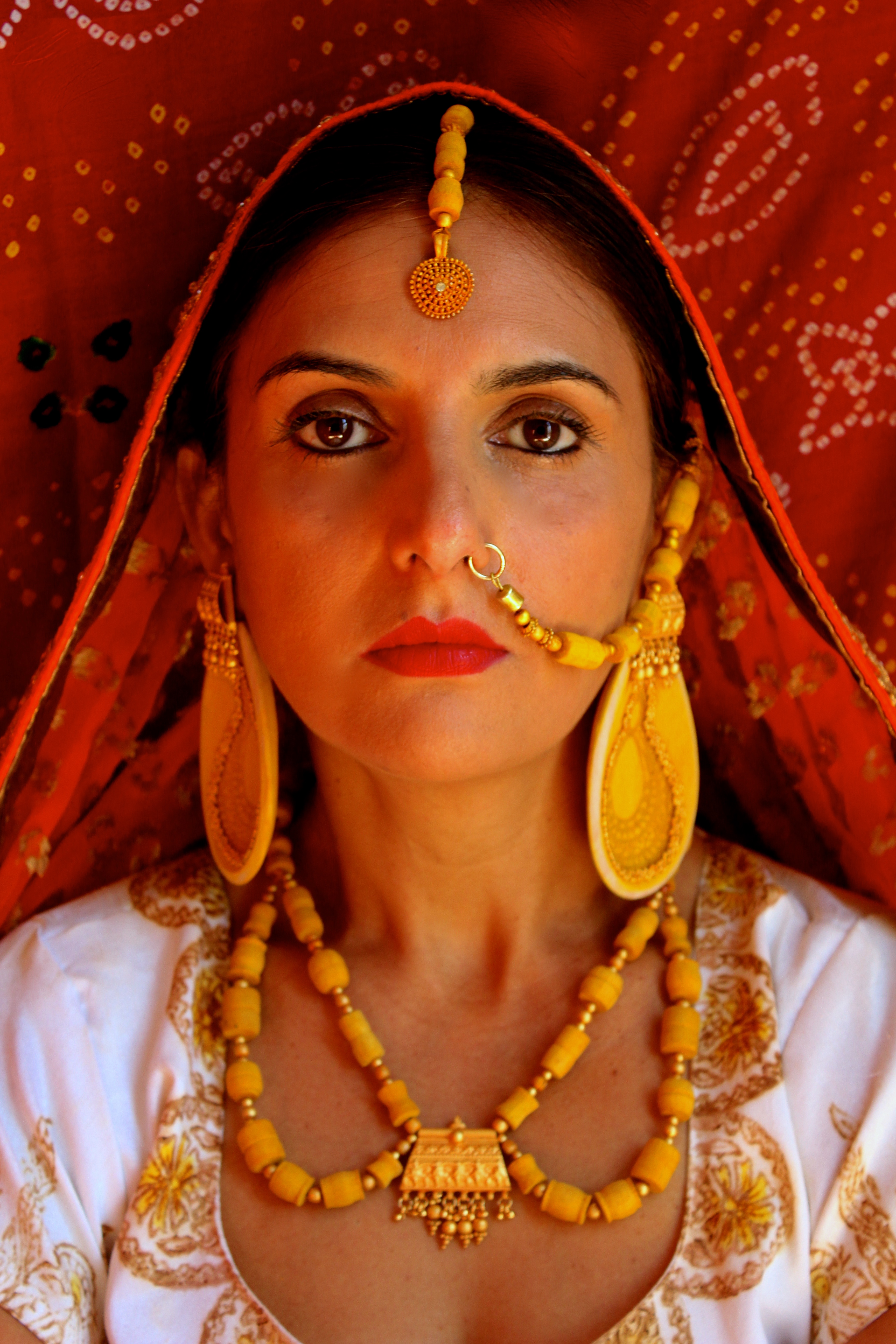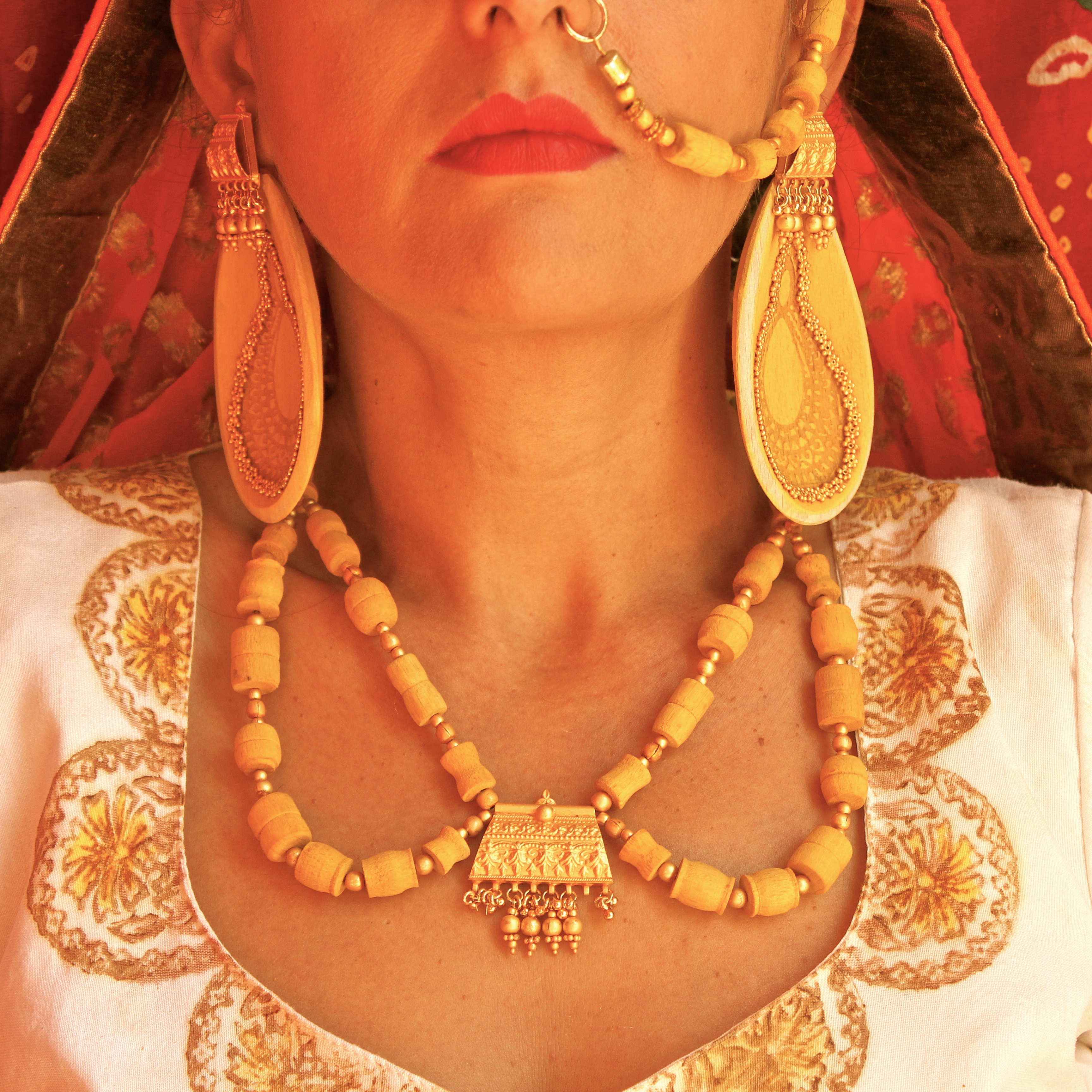 Wooden spoons, Turmeric, Recycled Indian Jewellery, Recycled jewellery findings, Henna (Cotton blouse)
Gold 'Stain'
T-shirt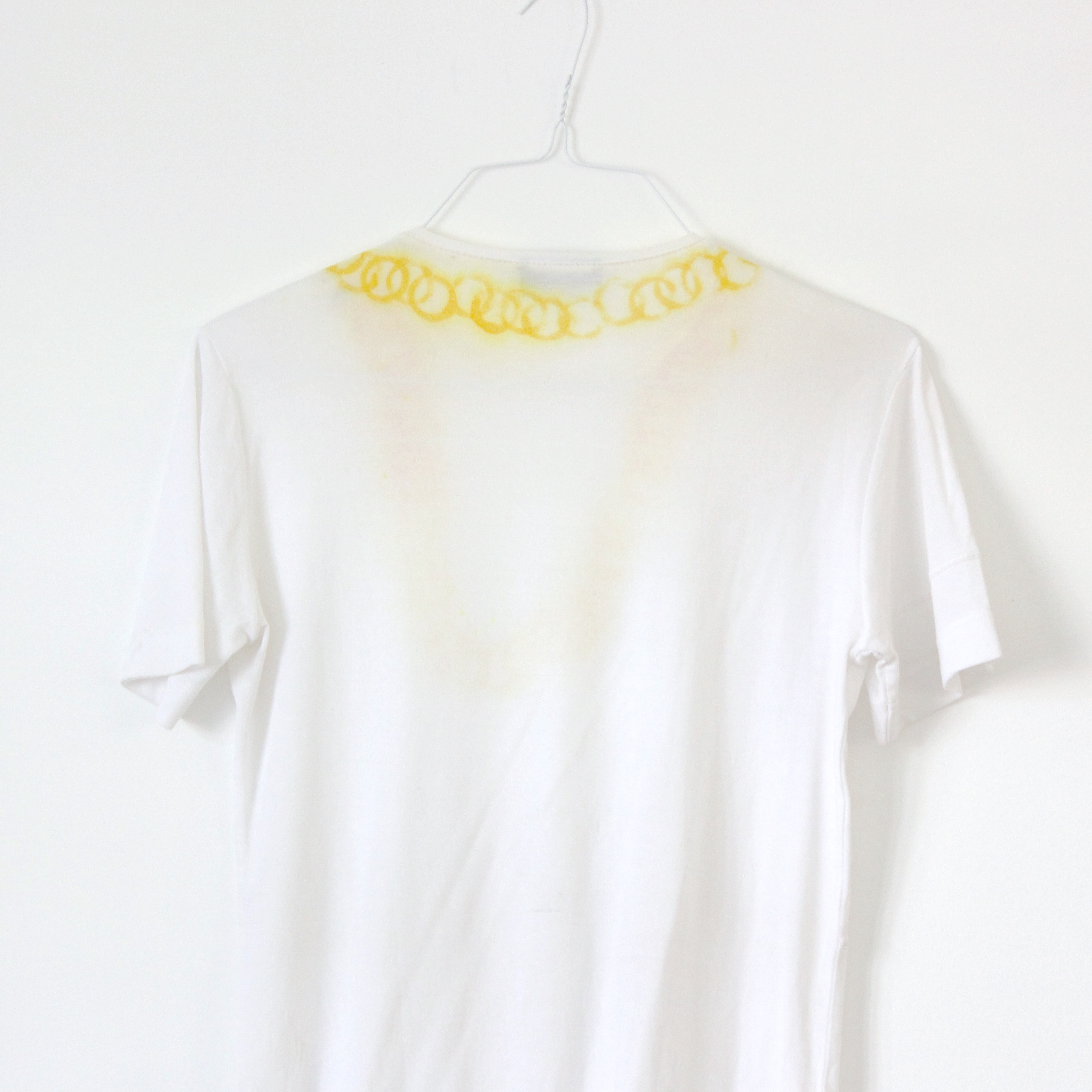 My take on a Gold Chain and a comment on the sometimes, overly refined world of contemporary jewellery.
Recycled T-shirt, Turmeric
Stone Baked
Mass-produced jewellery is often not intended to last for very long. My hand-carved rolling pin allows people to exchange their old crystals and have them embedded into their rolling pin so the memory of the jewellery is transposed into their food. This kitchen tool further enriches your culinary culture and helps you feel connected to jewellery in a different way, away from the body.
Hand-turned pine-wood, Swarovski crystals (2018)